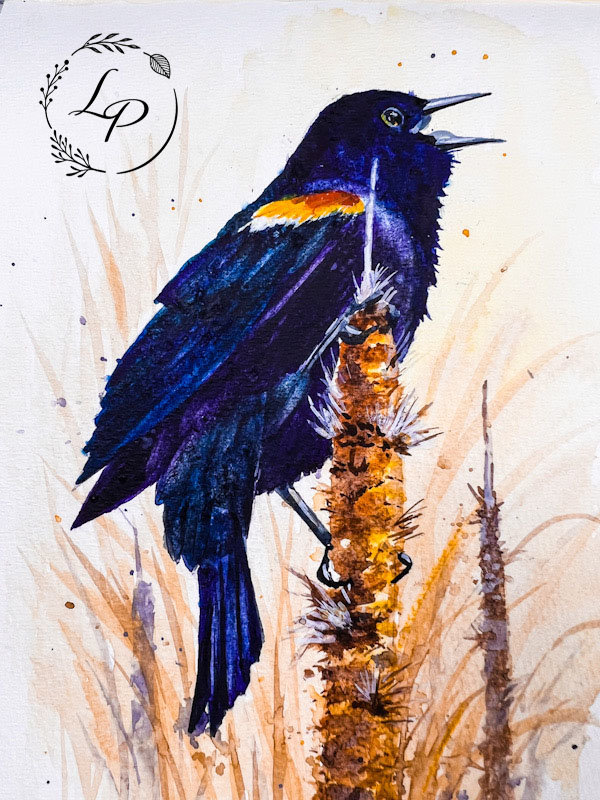 "Bye-bye, Blackbird" in Watercolor
Tuesday Morning, September 20, 2022 @ 10:00 AM (Eastern Time)
Thursday Evening, September 21, 2022 @ 7:00 PM (Eastern Time)
NEW! Please select your class day/time choice from the drop-down list above.
Welcome to the golden days of Indian Summer!  The birds are heading southward, but we'll capture this striking red-wing blackbird in rich, dark watercolors.  The warm complimentary background and the heavily textured cattails are perfect companions for the velvety blue, purple, and black hues of our subject.
The original painting is sized to fit under an 11 in x 14 in. mat with an 8 in. x 10 in. opening.  The complete supplies list and a scalable pattern template are included in a Class Information File which you will receive in your Confirmation Email after you have registered through the shopping cart.
A beautiful LOOKBOOK E-PACKET is included with your lesson!
What is a Lookbook E-packet?  Similar to a PowerPoint presentation, your Lookbook E-packet is a .pdf file that you can download and save to your computer.  Each page contains step-by-step painting instructions or notes, as well as color photos corresponding to each step in the painting process. Additionally, there can be live links directing you to further content such as video clips or other free resources.  Because of its .pdf format, the content can be easily enlarged to show photo details, and you can print out any page(s) if you prefer working from a "hard" copy.  I know you'll enjoy using this new, improved e-packet format!
REMEMBER to check the drop-down box at the top of the page to be sure that you have selected the correct class date that you wish to attend!
Your unique Zoom link and pass codes will be sent to your email box 24 hours prior to class time.  Let's paint together soon!  LP